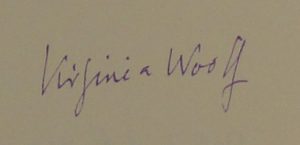 2023 Review 'Rooms: Women, Writing, Woolf', Virginia Woolf Bulletin, 72, January, pp 48-52.
2022 Review 'Machines for Living', Modernism/Modernity, September, 29:3, pp 686-8.
2022 'Writers' Houses and a Plaque for Talland House', Virginia Woolf Bulletin, 71, September, pp 72-77.
2022 'Talland House', The Sea Blazed Gold: Virginia Woolf in St Ives. L. Albani, Nightbird Press.
2022 Book blog '5 best novels to revision history' https://shepherd.com/best-books/to-re-vision-history
2022 'Kim Jones OBE and Virginia Woolf', Virginia Woolf Bulletin, 69, January, pp 34-36.
2021 'Realms of Resemblance: Virginia Woolf, Simone de Beauvoir and Mai Zetterling', Women Writers and Experimental Narratives, (eds) K. Aughterson and D. Philips, PalgraveMacmillan. https://link.springer.com/chapter/10.1007/978-3-030-49651-7_7
2021 'George Duckworth's Surprising Saturday Night', Virginia Woolf Bulletin, 66, January, pp 39-43.
2020 'The Relational Aesthetics of Bloomsbury', Literaturas de Lingua Inglesa V (eds) Davi Pinho and Maria C Monteiro, Letra Capital Editora.
2020 'Feminism in the Academy', Building a Radical University, (eds) M. Rustin and G. Poynter, Lawrence & Wishart.
2020 'Marion Dell in Conversation with Maggie Humm', Virginia Woolf Bulletin, 65, September, pp 51-55.
2020 'Love in Confinement', short story, Fairlight Books  https://www.fairlightbooks.co.uk/short_stories/love-in-confinement/
2019 'The Story of the Bloomsbury Set', BBC History Extra https://www.historyextra.com/period/20th-century/bloomsbury-set-charleston-east-sussex-virginia-woolf/

2018 'Virginia Woolf, Intimacy and Identity',

Virginia Woolf

, Tate Publications, Catalogue Tate St Ives Exhibition 'Virginia Woolf'

2018 'Bloomsbury and the Arts', The Handbook to the Bloomsbury Group (eds) D. Ryan and S. Ross, Bloomsbury Academic, London.
2018 'Vanessa Bell's "tiny book": Woolf, Impressionism, Roger Fry and Anti-Semitism', Virginia Woolf and the World of Books (eds) N. Wilson and C. Battershill, Clemson UP, Clemson.

2017 'Virginia Woolf and Photography', Special Issue: Photography and Gender,

Journal Communicação e Sociedade

2017 'The Women's March on London: Virginia Woolf, John Berger, Judith Butler and Intersectionality',

Przeglad Kulturoznawczy,

4 (34). 

2017 'Virginia Woolf and the Artistic Heritage of St. Ives', in Virginia Woolf and Heritage (eds.) J. de Gay, T. Breckin and A. Reus, Clemson UP, Clemson.
http://jessiecahalin.com/woolf-scholars-novel-choice/
https://www.mamsie.bbk.ac.uk/articles/abstract/10.16995/sim.98/